History
Fiat 600 Multipla
Manufacturer

  FIAT

Main type

Motor car

Production

from 1956 to 1967

Produced

240,000 

Length

3540 mm

Width

1450 mm

Height

1580 mm

Step

2000 mm

Mass

720 k g
The Fiat 600 Multipla is a car built from January 1956 to the spring of 1967 by the Turin-based FIAT company.
History
Presented on January 14th 1956 at the Brussels Motor Show, it can actually be considered one of the forerunners of the modern concept of a minivan. From the "600 Multipla" the " 600T " van was produced, produced from 1962 to 1968, from which the van " 850T " will in turn derive.
It was based on the Fiat 600 and housed four to six people, depending on the type of model. The 4-5 seat version, in addition to the front seat for two people, had a single rear-central seat and ample space for luggage between the backrest and the engine compartment; knocking down the seats, it could be turned into a double bed almost two meters long. The 6-seater version, in addition to the front seat for two people, had four foldable single seats arranged in two rows; knocking down the seats, a load plan of over 1.75 square meters was obtained, which could be used entirely, which could be easily accessed via the two doors, one on each side.Carrying capacity: 860 1b, 390 kg.
The taxi version had a front seat only for the driver, next to which there was a shelf covered in rubber to support the luggage; at the rear instead, it had a single rear seat and two pull-out folding seats, to accommodate up to four passengers.
The driving position with respect to the Fiat 600 was moved forward, eliminating the central volume and giving the structure the appearance of a work car. He had great success as a taxi in the sixties and as a small economic minibus. In his advertising campaigns, the manufacturer also focused a lot on the concept, at that time almost revolutionary, of a car destined for leisure time, camping and various hobbies. 
The first series is equipped with a 633-cc engine, increased by displacement for the second series (600 D Multipla) to 767 cc.
PERFORMANCE ENGINE CAPACITY 46.80 cu in, 767 cu cm
FUEL CONSUMPTION 41.5 mlimp gal, 34.6 miles US gal, 6.81 x 100 km.MAX SPEED 65.2 mph, 105 kmh.max speeds: 15.5 mph, 25 km/h in 1st gear; 24.8 mph, 40 km/h in 2nd gear; 40.4 mph, 65 km/h in 3rd gear; 65.2 mph, 105 km/h in 4th gear
power-weight ratio: 49.6 lb/hp, 22.5 kg/hp max gradient in 1st gear: 24% acceleration: standing 1/4 mile 29 sec, 0—50 mph (O —80 km/h) 32.5 sec,speed in top at 1,000 rpm: 12.8 mph, 20.6 km/h,
The name "Multipla" was taken up by FIAT, several years later, on the occasion of the presentation and production of another car, the " New Fiat Multipla ", which offered six standard seats and obtained the same marked success of the ancestor in the field of public transport.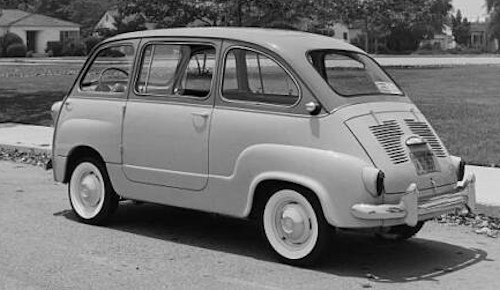 Technical
Fiat 600 Multipla Technical details and specifications (1956-1967)


ENGINE

rear, 4 stroke
cylinders: 4, vertical, in line
bore and stroke: 2.44 x 2.50 in, 62 x 63.5 mm
engine capacity: 46.80 cu in, 767 cu cm
compression ratio: 7.5
max power (SAE): 32 hp at 4,800 rpm
max torque (SAE): 40 1b ft, 5.5 kg m at 2,800 rpm
max number of engine rpm: 4,800
specific power: 41.7 hp/l
cylinder block: cast iron
cylinder head: light alloy
crankshaft bearings: 3
valves: 2 per cylinder, overhead,in line, push-rods and rockers
camshafts: 1, side
lubrication: gear pump, centrifugal filter, cartridge on by-pass
lubricating system capacity: 6.34 imp pt. 7.61 US pt. 3.6 1
carburation: 1 Weber 28 ICP 2 or Solex C 28 PIB 2 downdraught single barrel carburettor
fuel feed: mechanical pump
cooling system: water

TRANSMISSION
driving wheels: rear
clutch: single dry plate
gearbox: mechanical; gears: 4 + reverse
final drive: spiral bevel
axle ratio: 5.375.

CHASSIS
integral
front suspension: independent, wishbones, coil springs, antiroll bar, telescopic dampers
rear suspension: independent, oblique semi-trailing arms, coil springs, telescopic dampers.

STEERING
worm and roller
turns of steering wheel lock to lock: 3.12.
turning circle (between walls): 31.5 ft. 9.6 m

BRAKES
drum; lining area: front 51.63 sq in, 333 sq cm, rear 51.63 sq in, 333 sq cm

ELECTRICAL EQUIPMENT
voltage: 12 V
battery: 36 Ah
dynamo: 230 W
ignition distributor: Marelli

DIMENSIONS AND WEIGHT
wheel base: 78.74 in, 2,000 mm
front track: 48.42 in, 1,230 mm
rear track: 45.55 in, 1,157 mm
overall length: 139.17 in, 3,535 mm
overall width: 57.09 in, 1,450 mm
overall height: 62.20 in, 1,580 mm
ground clearance: 5.12 in, 130 mm
dry weight: 1,588 1b, 720 kg
distribution of weight: 48% front axle, 52% rear axle

© Motor car History

Technical characteristics 

Bodywork: Four-door MPV

Engine position: rear

Traction: rear

Dimensions (length × width × × height in mm): 3530 × 1450 × 1580

Minimum turning circle diameter: 8.70 m

Wheelbase: 2000 mm

Carriageways: front 1230 - rear 1154 mm

Minimum height from the ground: 150 mm

Total seats: 4

Luggage compartment:

Tank: 29 litres

Masses

/ In running order: 750 kg

Motor type: 4- cylinder in-line liquid cooled

Displacement: Bore x stroke = 63.5 x 62 mm; total 767 cm³

Distribution: rods and rocker arms, with two valves on the head per cylinder, with a side camshaft controlled by a chain

Power supply: a carburettor inverted Weber 28ICP

Engine performance

Power: 29 hp DIN at 4,800 rpm

Ignition: coil and distributor with pneumatic spark advance

Electrical system:

Clutch: dry disc, mechanical control

Gearbox: 4-speed (2nd, 3rd and 4th synchronized) + RM

Car body

body with supporting structure

Steering

with screw and roller

Suspensions

front: with independent wheels with oscillating transverse trapezoid with helicoidal cutter and double-acting / rear telescopic hydraulic shock absorbers: with independent wheels with transverse and inclined triangular arms, helical springs and double-effect telescopic hydraulic shock absorbers

Brakes

front: drum / rear: drum with hydraulic control

Tires

5.20-12

Speed: in 4th gear: 95 km / h

Acceleration: on the km from standstill with use of the gearbox: 57,950 sec

consumption

average 7 l / 100km

 
Service
Fiat 600 Multipla Service Guide (1956-1967)

fuel: 80-85 oct petrol
engine oil: 5.63 imp pt, 6.76 US pt, 3.2 1, SAE IOW (winter) 40 (summer), change every 6,200 miles, 10,000 km
gearbox and final drive oil: 2.64 imp pt, 3.17 US pt, 1.5 1, SAE 90, change every 18,600 miles, 30,000 km
steering box oil: 0.35 imp pt. 0.42 US pt. 0.2 1, SAE 90
greasing: every 1,600 miles, 2,500 km, 6 points
cooling system capacity: 11.79 imp pt, 14.16 US pt, 6.7 1.
spark plug type: 2250
tappet clearances: inlet 0.006 in, 0.15 mm, exhaust 0.006 in, 0.15 mm
valve timing: inlet opens 4° before tdc and closes 34° after bdc, exhaust opens 29° before bdc and closes 1° after tdc
tyre pressure (medium load): front 27 psi, 1.9 atm, rear 30 psi, 2.1 atm.
width of rims: 3.5"
tyres: 5.20 x 12
fuel tank capacity: 6.4 imp gal, 7.7 US gal, 29 1.

© Motor car History
Maintenance
Maintenance Advanced Data
Members Only !  >>  Register here. <<
Models and years covered 1920 to 2020 all make and years. Car and Commercial vehicles Worldwide including basic to advanced.
Including Full Rebuilds, Service and trouble shooting, Technical diagrams and Wiring diagrams on request..
ENGINES
COOLING SYSTEM
TRANSMISSION
BRAKES
STEERING
SUSPENSION
WHEEL ALIGNMENT
DIMENSIONS AND SIZES
TORQUE WRENCH SETTINGS
CAPACITIES
CARBURETTORS
INJECTION SYSTEMS
SERIAL NUMBER LOCATIONS